Meditation for the Bahamas every 4 hours
People in the Bahamas are now recovering from the impact of Hurricane Dorian, which is the strongest hurricane ever recorded to hit the country.
For a period of three days, the Category 5 storm moved slowly towards the US and pummeled the northern Bahamas with sustained winds of 185 mph, storm surges and torrential rain.
https://www.nbcnews.com/news/world/everything-s-gone-abaco-islands-lives-shattered-hurricane-dorian-s-n1051251
https://www.bbc.co.uk/news/world-latin-america-49553770
Search and rescue teams in the Bahamas are now scouring communities with cadaver dogs looking for both victims and survivors of Hurricane Dorian.
The official death toll as of Tuesday, September 10th is now 50, but numbers are expected to be much higher as hundreds of people are still missing.
https://www.dailymail.co.uk/news/article-7442915/Bahamian-government-denies-suppressing-Dorian-death-toll-latest-official-figure-44.html
An estimated 70,000 people are now homeless on the Abaco Islands and in Grand Bahama, according to the United Nations.
At present, efforts are underway to rescue evacuees by the hundreds.
https://www.zerohedge.com/news/2019-09-07/bahamas-death-toll-rises-70000-residents-struggle-food-and-shelter
People in the affected areas are also facing the risk of diarrhea and waterborne disease outbreaks from contaminated drinking water.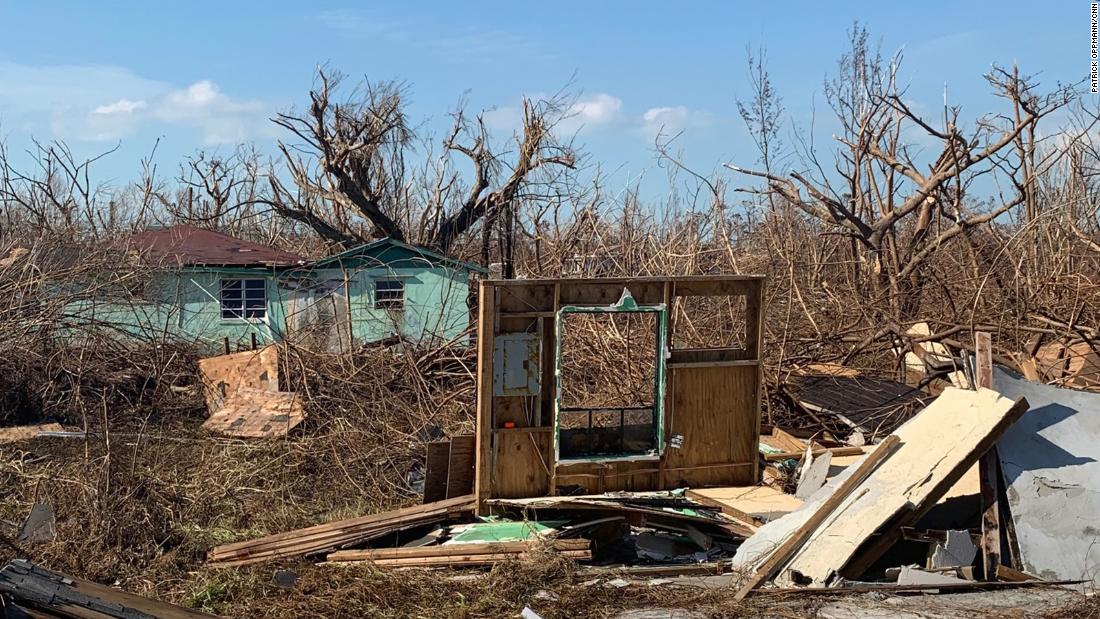 In some towns in the east of Grand Bahama Island, residents say the majority of homes were destroyed. Many people are still looking for relatives taken by the storm. Image source
Relief groups have focused on getting doctors, nurses and medical supplies on the ground in the hardest-hit areas, such as Abaco, and helping survivors obtain food and safe drinking water.
https://www.nbcnews.com/news/world/everything-s-gone-abaco-islands-lives-shattered-hurricane-dorian-s-n1051251
Therefore, we suggest performing a new meditation for the Hurricane Dorian's aftermath in the Bahamas starting at 10:30 PM UTC on Tuesday, September 10th, and then every 4 hours, to help the people who have suffered from the hurricane to receive food and all necessities, as well as shelter, until the affected areas have completely recovered.
This new meditation will replace the Meditation to dissipate Hurricane Dorian every 4 hours, which is no longer necessary.
The 4 hour intervals are as follows:
Please join us in this meditation in any of the intervals if you feel so guided.
Note: the interval at 2:30 PM UTC overlaps with the daily Goddess Meditation, so please feel free to join either meditation at this interval as you wish.
Here is the link to the Facebook event for this meditation (updated):
https://www.facebook.com/events/3452292484781658
Here is the short link to the Guided audio Youtube playlist:
http://bit.ly/2VFzBtN
Instructions:
1. Use your own technique to bring you to a relaxed state of consciousness.
2. State your intent to use this meditation as a tool to help people in the Bahamas affected by Hurricane Dorian to cope with all the traumas and fear created, and to assist people around the world to rise in consciousness and compassion.
3. Visualize a pillar of Light emanating from the Galactic Central Sun, then going through all beings of Light inside our Solar System and then through your body to the center of the Earth. Visualize another pillar of Light rising from the center of the Earth, then up through your body and upwards into the sky towards all beings of Light in our Solar System and our galaxy. You are now sitting in two pillars of Light, the Light flowing both upwards and downwards simultaneously. Keep these pillars of Light active for a few minutes.
4. Now visualize a soft pink healing divine feminine energy, healing all people affected by the hurricane from all the traumas and fears, bringing peace, harmony, and unity to everyone affected by the hurricane. Visualize the souls of all people being killed by the hurricane to cross safely and peacefully through the plasma plane.
5. Visualize all people affected by the hurricane being provided with all necessities including clean water, food, shelter, fuel supply, financial assistance and other help needed to rebuild the community. Visualize all missing people being found and rescued.
6. Visualize all supplies getting to the people with ease by creating an energy flow that will call forth all that is required for this to move forward. Visualize people around the world being inspired to help the people in the Bahamas affected by Hurricane Dorian as best as they can.
We also suggest including the Hurricane Dorian's aftermath in the Bahamas in the daily Emergency Meditation at 2 PM UTC, until the affected areas have completely recovered. Visualize people receiving all required necessities and medical care. Visualize the Bahamas receiving all necessary aid to rebuild desolated areas.
https://www.welovemassmeditation.com/2018/02/breakthrough-meditation-at-2-pm-utc-and.html
Victory of the Light!
-----------------------------------------------------------------------
About this blog:
We Love Mass Meditation organizes Mass Meditations aiming to help achieve planetary liberation as soon as possible and as smoothly as possible.
Emergency Meditation at 2 PM UTC:
Goddess Meditation at 2:30 PM UTC
Key to Freedom Meditation at 3 PM UTC:
Cosmic Central Race Meditation at 3:15 PM UTC:
Buddhic Columns Meditation at 3:30 PM UTC:
We also organize different mass meditations regularly for various purposes. They can be found in this link below:
We also provide emergency financial support to lightworkers around the world. Please feel free to make a regular or one-off contribution using the link below:
Please assist/support us for a smooth transition in planetary liberation in the highest Light.