Daily Buddhic Column meditation for Puerto Rico at 7:30 PM UTC
About 2,000 quakes have shaken Puerto Rico since late December, with the most powerful a 6.4-magnitude temblor that took place last Tuesday January 7th, centered just off the island's southwest coast. That one, the biggest quake to hit Puerto Rico in a century, killed at least one person, damaged nearly 600 buildings and caused at least $110 million in damage and leaving most utility customers in the dark.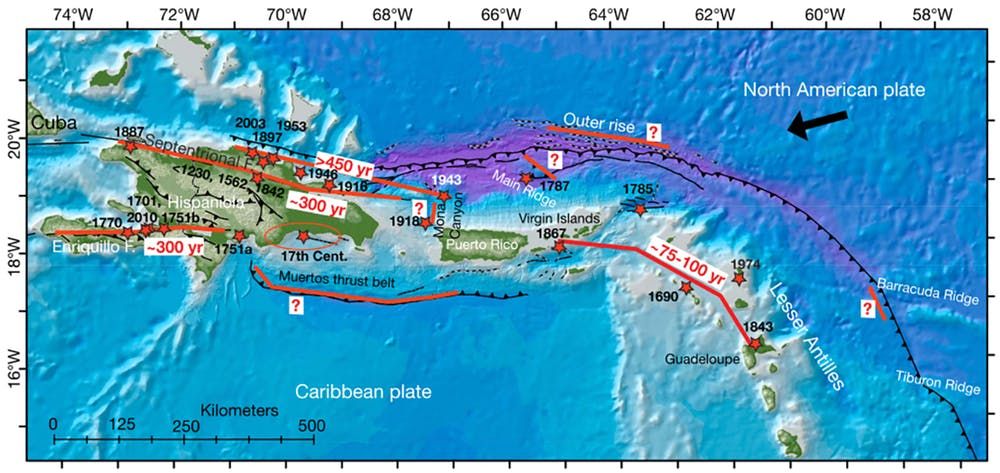 Multiple faults crisscross the eastern Caribbean. Those outlined in red have a potential to generate a large earthquake. The arrow at top right shows the direction of the North American plate's motion relative to the Caribbean plate. Red stars denote intensity centers for past earthquakes. (Image credit: USGS). Source
This flurry of quakes includes onshore and offshore events near the town of Indios and along Puerto Rico's southwestern coast. So far it has included 11 foreshocks — smaller earthquakes that preceded the largest event, or mainshock — with magnitudes of 4 and greater. Major quakes occurred on January 6th (magnitude 5.8) and January 7th (magnitude 6.4 mainshock), followed by numerous large aftershocks. The island has been under a state of emergency since January 6th and the National Guard has been activated one week ago.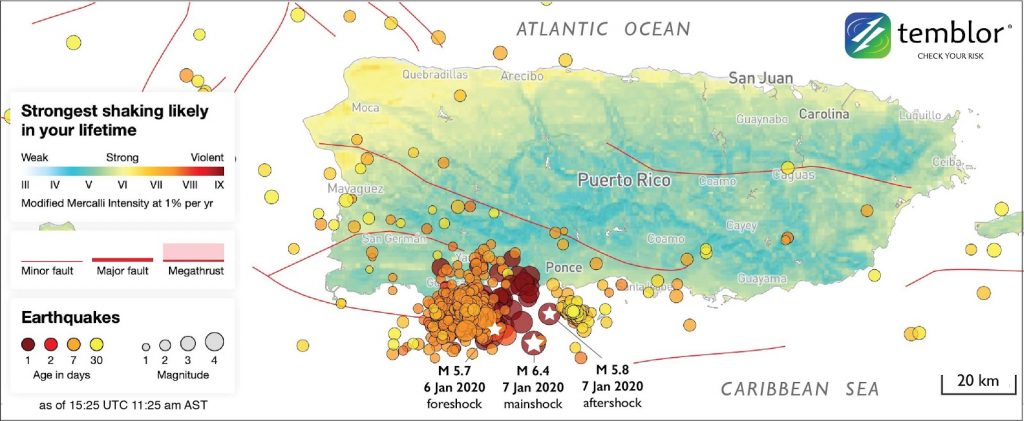 Thematic map of the current seismic state of Puerto Rico. Refer to the legend at left for details of the illustration. Circles represent seismic events located by the Puerto Rico Seismic Network since December 28th, 2019. The different colors indicate when a particular event occurred since activity commenced in late December, while the size of the circle represents the magnitude of the event. Most significant events are shown with a white star with the magnitude and date plotted next to it. The largest event observed to date is the M6.4 January 7th, similarly, the main precursor (M5.7 on January 6th) and the main aftershock (M5.8 on January 7th) are also shown. Source
Puerto Rico is still recovering from Hurricane Maria in 2017. The quakes have renewed fear and anxiety among residents in the southern towns of the island. Thousands of families have fled their homes, fearing the structures may collapse during an aftershock. They are sleeping in tents and tarps set up in stadiums, in fields and next to highways.
The Puerto Rico Electric Power Authority said power has been restored to 99% of its customers. But nearly 5,000 people are still living in shelters.
As the tremors are likely to continue, we suggest a daily Buddhic Column meditation at 7:30 PM UTC to calm the Caribbean faults until the tremors fully stop.
This table shows the time of the meditation for selected time zones including San Juan, Puerto Rico:
Here is the Facebook event for this Buddhic Columns meditation:
Here is the link to the guided audio for Buddhic Column Meditation in different languages (updated):
Instructions (Suggested time of this meditation is 15 minutes)
1. Use your own technique to bring yourself to a state of relaxation. Take a deep breath of brilliant white light. Breathe out all that no longer serves you. Repeat this breathing for a few more times. Then say this mantra, or a similar one, silently or out loud if you feel guided:
"I Am the Soul
I Am Divine Light
I Am Divine Will
I Am Divine Love
I Am fixed design by me, the Soul"
2. Visualize your soul star chakra lights up with brilliant white light. Visualize this light in the form of a vortex spiraling down clearing your energy field.
3. Visualize a 5-pointed star being placed high in the sky about 9 miles above the areas affected by earthquakes at Puerto Rico. See this star glistening high above the chosen location, shining brilliant white light.
4. Now visualize the White Fire of AN emanating from the Galactic Central Sun, going through all points of light within our solar system and through the 5-pointed star, through the areas affected by earthquakes at Puerto Rico and deep into the center of the earth. Keep visualizing this pillar for a few minutes.
5. Visualize the tip of a brilliant vortex of white light spiraling down clockwise from the 5-pointed star, removing and transmuting all low vibrations, dark entities, and dark energies and carrying them up to the 5-pointed star for transmutation. Visualize this vortex of spinning white light for a few minutes.
6. Visualize this Buddhic Column fully linked to all Buddhic Columns on the planet, to the planetary network of Light below, above and on the surface of the planet, and any point of Light as guided by the Ascended Beings, all connected together with this Buddhic Column at the 5 pointed star in the network of brilliant white light.
7. Now, in the name of Source, in the name of I AM Presence of eternal light. We declare and command that the Buddhic Column at the areas affected by earthquakes at Puerto Rico is now complete on all planes as guided by Source.
If you feel guided, you may also include this in the Emergency Meditation daily at 2 PM UTC. Visualize the earthquakes causing as little harm as possible and also visualize people of affected areas being provided with all necessities and medical care. Visualize communities returning to their normal lives as quickly as possible.
Here is the link to the Facebook event for the Emergency Meditation:
And the link to the guided audio:
Victory of the Light!
--------------------------------
We Love Mass Meditation organizes Mass Meditations aiming to help achieve planetary liberation as soon as possible and as smoothly as possible.
Please join any of the daily meditations below if you feel so guided.
Flower of Life Meditation, 12 PM UTC and every 4 hours, also at any time and as often as possible
Emergency Meditation at 2 PM UTC:
Goddess Meditation at 2:30 PM UTC
Key to Freedom Meditation at 3 PM UTC:
Cosmic Central Race Meditation at 3:15 PM UTC:
Buddhic Columns Meditation at 3:30 PM UTC:
We also organize different mass meditations regularly for various purposes. They can be found in this link below:
We also provide emergency financial support to lightworkers around the world. Please feel free to make a regular or one-off contribution using the link below:
Please assist/support us for a smooth transition in planetary liberation in the highest Light.